Gaining a business advantage with a safety first approach.
After a recordable incident involving a Strad employee on site at one of the largest energy companies in the world, Strad was "in the penalty box" according to Ted Graul, Director of HSE. Strad's safety team responded by presenting their safety system and as a result Strad is now a preferred vendor of choice at the "top of the podium."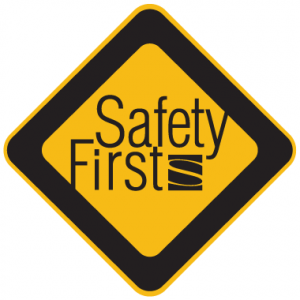 Strad Energy Services is a leading provider of equipment rental solutions to various sectors of the North American oil and gas industry. Strad products provide critically important services like environmental protection and waste management in an industry with some of the highest safety requirements, to clients with even higher safety standards.
It's a common mandate from large clients in the oil and gas industry: you must have a Behavior Based Safety (BBS) process in place. Strad is proud to highlight their "Safety First" program, including SafeStart and SafeTrack, in all of their bid packages.
It's just smart business. Yet for Strad leadership and employees, it's much more than that. It's a guiding principle, contributing to what Ted calls the "Strad Fiber."
Exceeding the BBS Mandate takes Leadership
In 2010, Strad researched programs to fulfill a BBS mandate by clients. After selecting SafeStart and SafeTrack, Strad's management ensured the initiative was more than "just meeting a client requirement" by leading from the top. The senior management team, including the CEO and COO, were the first group trained, and Strad's visible leadership support continued from there:
Strad leadership established a clear mandate that 90% of Strad employees will be trained in SafeStart; safety leadership reports quarterly to the Board on this Key Performance Indicator (KPI).
If the KPI isn't met, leadership doesn't look for someone to blame. Instead, they ask "What do you need?" and offer overtime hours and travel budgets to ensure the goal is achieved. Strad brings people to main branches for training (even sending a single employee from Fort Nelson, BC to Grande Prairie, AB) and holds training sessions for as few as 3 people at a time to support the 90% mandate.
All employees, including office personnel, are included in the SafeStart training, demonstrating that Strad values the safety of all employees both on and off the job.
SafeStart and SafeTrack are incorporated into Strad's "Safety First" program, and the company's dedication to safety is more than just words on a piece of paper. As Ted says, "they talk about it all the time."
Strad takes concrete action to sustain the safety program. Recently, branch managers made a New Year's resolution to identify one safety habit to improve and then posted it on their office door. This public statement allows them to hold each other accountable and even prompts some friendly challenges and toolbox talking points.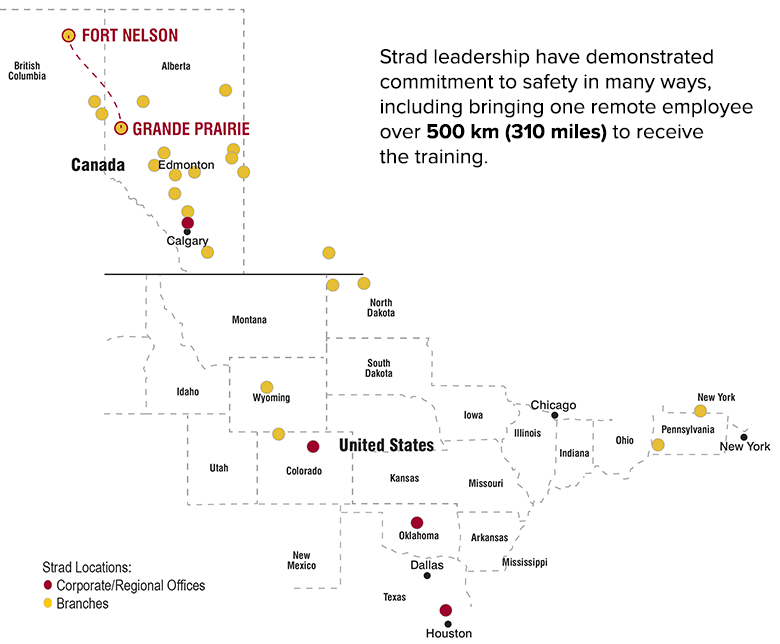 Weaving the Strad Safety Fiber
When asked to elaborate about how SafeStart was integrated into the Strad Safety Management System, Ted sounded surprised: "At Strad it's seamless…SafeStart and SafeTrack—our Safety First Program—are rolled into every aspect of our business." SafeStart concepts like the four states and four errors have been integrated into JSAs, Incident Reports, Near Miss Reporting and Hazard Identification processes. Ted says they share and even celebrate when employees complete Hazard IDs. Posters are displayed in every meeting room and at every location (see Figure #1).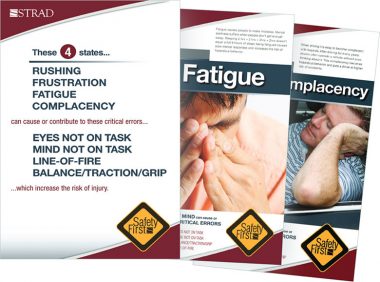 All employees, from field workers to Strad's President, sign a commitment to the "Safety First" program, and Strad's "Safety First" logo appears on everything they produce, from shirts and hats to the company's bids and stationary. There is no question that SafeStart and a rigorous safety program contribute to Strad's "safety fiber"—and a real business advantage.
Observations Drive Results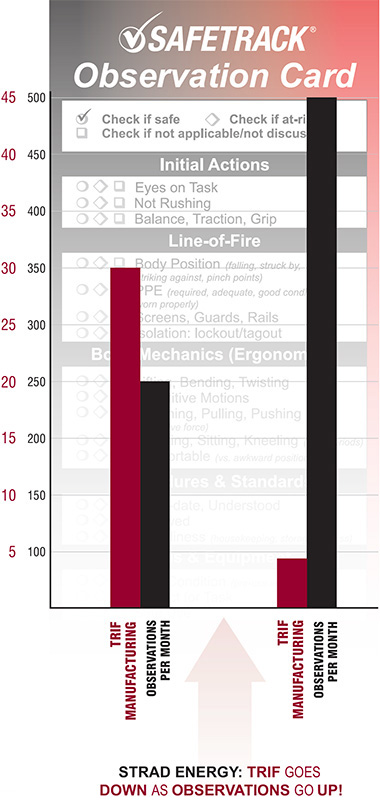 SafeTrack observations are a key to driving injuries down. In 2011, eye injuries were the top at-risk category noted during observations and the most frequent type of injury for Strad. A resultant focus on eye safety almost entirely eliminated eye injuries by the end of 2012. When hand injuries were observed to be the most common injury category in 2012, Strad knew that observations provided valuable leading indicator data that must be acted upon. Consequently, hand injuries dropped from 53% of injuries to 21%. SafeTrack observations are regarded as a credible key performance indicator, and Strad's mandate to conduct 6,000 observations this year will lead to sustained commitment and accountability.
SafeTrack has been especially effective in Strad's manufacturing operations, helping drive down their TRIF by an impressive 87%. But it's more than numbers. As Shane Hopkie, Strad's COO says, talking with peers about safety is "a chance to save lives."
Now Strad's biggest risk is driving, and conducting observations with drivers is always a challenge. Strad employees have reported relying on their SafeStart personal safety awareness skills on long drives, reminding themselves "Eyes on Task, Mind on Task" regularly.
Success is Personal—and Poignant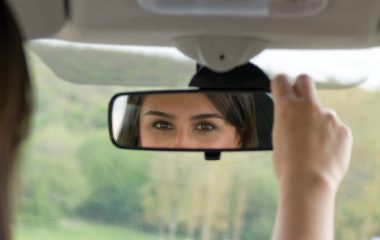 Ted shared a particularly poignant driving story, or as he says, "a warm and fuzzy moment in my career." A quiet woman in their Calgary branch attended the SafeStart class. Unlike most of Ted's participants she was hesitant to share a story (Ted says most of their classes run long because of stories, and employees like to "one up" the story just told!). But she did share this with Ted: a week after her SafeStart class, she was driving her van with her husband and children and recalled the recommendation discussed in class to check your rear view mirror for "Line- of-Fire" when stopped at a red light, something she had not been in the habit of doing. She checked and saw a cube van racing up behind her—and she had a feeling it was not going to stop. She changed lanes and it raced past her, in all likelihood avoiding a terrible tragedy.

Safety—A Business Advantage with Clients and the Community
Strad employees follow the Strad Standard whenever they're on a client site, as it always meets or exceeds the client's standard. This has led Strad to become a "preferred business partner of choice" and they've received numerous accolades and letters from clients. The result: a business advantage in acquiring and retaining clients.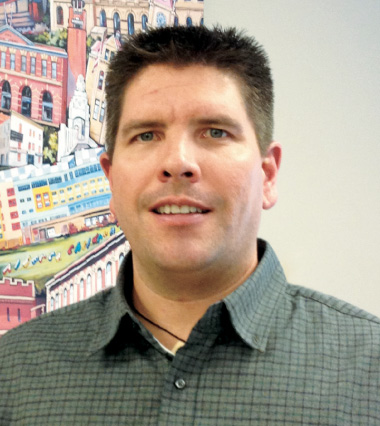 Our real difference is the standard by which we measure success. We call it the Strad Standard. And, frankly, it's a higher one. One our people hold each other to, and we hold our results to. Because we go the extra mile for our people, our customers and our stakeholders, customers can rely on Strad for more than just getting the job done. Holding our standard so high is how we achieved our best-of- breed product portfolio; one that exceeds all of North America's strict safety standards.
Taking SafeStart home, and sharing resources like Boo Boo Bandits in the community, ties in with Strad's expectation that employees demonstrate active community involvement: "Strad endorses and encourages its employees to participate in their communities over and above company initiatives." SafeStart fits with Strad's culture of supporting local initiatives in a number of areas, including Education, Youth and Family, and Local Athletics.
SafeStart would like to congratulate all the employees at Strad for their many safety awards—truly "Top of the Podium!" and for a 50% reduction in overall TRIF, from 6.46 in 2011 to 3.23 in 2012.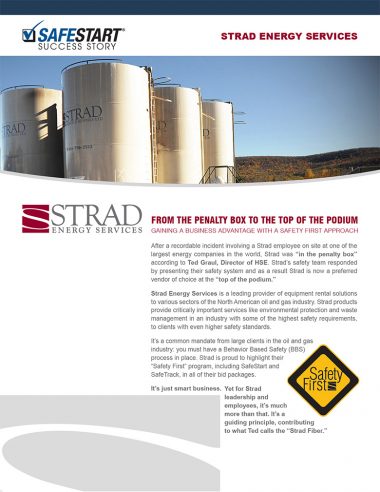 Get the PDF
You can view or download a PDF of this case study using the button below.