Headquartered in Boise, Idaho, Boise Inc. (NYSE: BZ) manufactures packaging products and papers including corrugated containers, containerboard, label and release and flexible packaging papers, imaging papers for the office and home, printing and converting papers, newsprint, and market pulp.
Boise Inc. operates five paper mills, five corrugated products plants, a corrugated sheet feeder, a corrugated sheet plant, two distribution facilities, and a transportation business. With the acquisition of Tharco Packaging, Boise Inc. has expanded its facilities and supplemented its existing capabilities, which currently include customized packaging such as traditional and plastic corrugated, foam packaging, and anti-static products; combined corrugated and foam packaging for superior product protection; and an experienced staff of packaging designers with expertise in graphic, structural, and cushion packaging engineering.
The key values of Boise Inc. include working safely, acting with integrity, and managing their businesses to sustain environmental resources for future generations.

Fostering solutions and success, not assumptions and frustration
The Burley, Idaho location of Boise Inc. is a corrugated container packaging facility over 52 years in operation. The facility has had a historically good incident rate, which is reflective of the fact that safety is an integral value of the company. From 1995 to 2004, their rate averaged approximately 2.2 (about half the industry standard). A number of safety programs had been implemented and remain in use to the present. From 2005 to 2007, the incident rate average increased to 3.7. While the rate increase during this time frame was primarily dependent upon frequency, rather than severity of injuries, the leadership group was not feeling positive about the situation. The increased rate fostered a sense of frustration and the demoralizing assumption that, after going home each day, a call would be received about another incident. Coincidentally, a relatively new Maintenance Supervisor, Clay Cooper, had experienced SafeStart during previous employment. The supervisor was a strong advocate of SafeStart Techniques and methodology. It was a teachable moment and the facility embraced the program.
The increased rate fostered a sense of frustration and the demoralizing assumption that, after going home each day, a call would be received about another incident.

Sincere Communication
The material was easily understood and people could readily identify with it. Simplicity was a significant factor, but also the sincerity in the approach to training. Conversations that take place cover safety on and off the job. A huge part of the appeal of the program is that the training is an investment in the people as individuals, not just as employees of the company. This investment is exemplified by and reinforced 24/7 with the SafeStart Home elements.
Implementation
The initial implementation schedule and structure did not fully consider the needs of the business and employees. This was quickly recognized. After a brief break, SafeStart was implemented in a less formal manner with smaller groups: about 6-8 employees per class. Even the shy employees have the opportunity and inclination to speak in small groups.
Doug Pasley, General Manager, calls it a "gift" when someone shares a story for SafeStart. Discussion is encouraged and everyone seems enthusiastic to share. Management provides materials and resources and takes an active role in training. Doug is the instructor for the first unit of SafeStart, thus helping to demonstrate Boise's serious commitment to safety and the importance of the SafeStart program.
Training was made a part of the regular work schedule. Small groups were brought to the conference room during periods that were quieter and were a logical time to free the employees for training. Shift coordinators were the most familiar with the schedule, so they chose appropriate times during a given period to complete a specified unit. Trainers were on standby to conduct the training as needed.
A huge part of the appeal of the program is that the training is an investment in the people as individuals, not just as employees of the company.

Sincere Commitment
Toolbox group meetings also incorporated Jeopardy type games using SafeStart concepts. This format gave people the chance to take the concepts on board between training sessions. As a further reminder of core concepts, SafeStart posters hang in almost every room. Each person gets safety points for SafeStart stories and observations. Every meeting in the facility requires a "safety moment," now called "SafeStart Moment" or "SafeStart Stories." A select number of these stories are produced as a calendar illustrated by a Boise employee and the children and grandchildren of employees color the illustrations.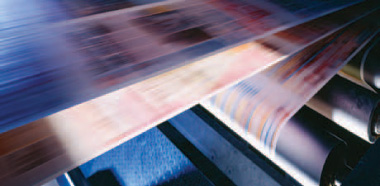 There has been tremendous support of SafeStart, company wide, at Boise Inc. Boise Inc. conducts an annual safety conference with all business units and many company locations. The conference encourages cross-pollination of ideas. In addition, monthly safety calls are conducted to address specific concerns such as, "What are you doing to eliminate complacency?"
Don Wilson, VP SafeStart, presented SafeStart at the request of Boise Inc., who reserved an auditorium at a local high school and offered attendance to local business. Divisional and corporate representatives of Boise Inc. attended the session hosted by the Burley, Idaho facility. The plant shut down early to permit employees to attend the SafeStart informational session. Doug Pasley has also made SafeStart presentations at Boise Inc.'s corporate offices. Multiple Boise locations are currently active with SafeStart.

Creating a Culture of Prevention
Amongst the safety culture changes attributable to SafeStart, one of the most notable is that the program encourages people to be responsible for their own safety. Moreover, SafeStart communicates responsibility in a positive manner. Boise Inc. recognizes this as a big takeaway for all employees. SafeStart has also supported the belief that incidents are preventable; all incidents. Years ago, this was not a common belief at Boise Inc.'s Burley location.
SafeStart has had a quick impact. It was remarked by Doug Pasley that OSHA and hazard training are effective at pointing out dangers in the workplace, but SafeStart enhances that effectiveness. Not only does SafeStart training supplement regulatory compliance initiatives, it provides a critical piece of the puzzle of incident prevention: SafeStart fosters awareness of physical and psychological hazards and offers successful solutions to those potential problems.
Various efforts have been made to share and integrate SafeStart. In particular, the terminology is now being applied much more to off-the-job situations. SafeStart Home components have been provided to all employees at the Burley facility and individuals from the location have also spoken at the local grade school. These activities have been prompted by a dual recognition: you never really know a subject unless you teach it and if the information could be given to the kids it would make a major change.
SafeStart has also fostered the belief that incidents are preventable; all incidents.
During the period from 2008-2010 the average incident rate at the Burley facility was 1.03. Although SafeStart is not the only factor contributing to that success, it is a significant factor. In 2010, the location achieved zero incidents.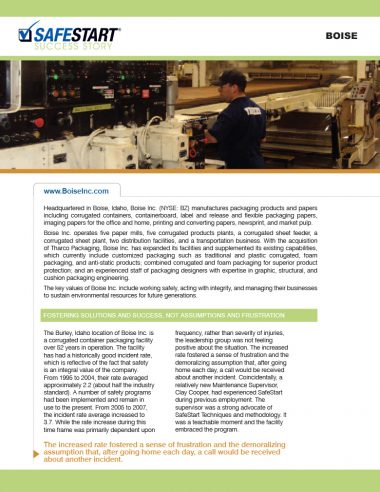 Get the PDF
You can view or download a PDF of this case study using the button below.