In our ongoing commitment to make the SafeStart program available to communities to keep our youth safe, we announce our support of and partnership with the Wellington Dukes Junior "A" Hockey Club.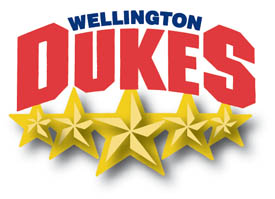 Details are available in the official press release, which outlines how this sponsorship runs much deeper than most because of the SafeStart safety training component that will be taught to all players—helping to keep them injury-free both on and off the ice.
As well, the team's participation and feedback in this process will aid the development of SafeStart for rollout to other athletic organizations worldwide—benefitting Electrolab as well and making this a "win" for both partners.
Expanding on previous sponsorships and partnerships with the BC Freestyle Ski Association and the Carleton University Ravens Basketball Team, Electrolab is looking forward to their sponsorship of the Wellington Dukes growing into a strong partnership with the coaching staff, front office personnel and players.