Playworld Systems, a leader in imaginatively designed and customized commercial recreation and playground equipment, needed an effective safety program to help reduce their incident rate of 6.2. SafeStart was chosen because it focused on the human factor to improve safety at work as well as at home.
We are proud to present their SafeStart success story which documents their journey to a 63% reduction in their annual incident rate.
View/Download the Playworld Systems case study for full details and contact us to discuss how SafeStart can help you improve your safety system.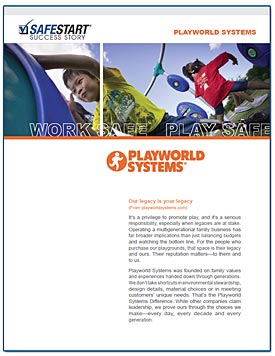 View the Playworld Systems Case Study PDF or other case studies from our clients.