The entire SafeStart staff and consulting team enthusiastically congratulate the employees and safety staff at the Belvidere, New Jersey site of DSM Nutritional for achieving one year without a recordable injury.
DSM Nutritional Products is one of the world's leading suppliers of vitamins, carotenoids and other ingredients to the feed, food, pharmaceutical and personal care industries. The business has sales of more than €3 billion and a long tradition of innovation that benefits people, planet and profit.
Norman Arner, the site's safety champion, offered this feedback:
We are at day #366 today of no recordables at DSM Belvidere. Not long ago, we could not get to 100 days. Of course SafeStart has helped. Our culture is changing…SafeStart 'lingo' is being used, and we continue to strive to keep it fresh. Thanks for all of your help and support.
Their commitment to safety and SafeStart is commendable and employee engagement evident through the results they have achieved, the banners they have produced and a recent internal Halloween promotion that incorporated SafeStart terminology into a poem included in candy bags that were handed out to staff.
We are proud of their accomplishments, offer our gratitude for their efforts with SafeStart and wish them continued success.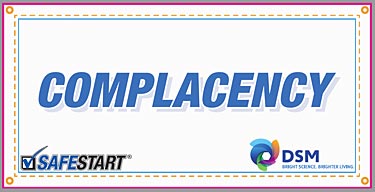 View the DSM SafeStart Banners sample PDF and other client samples