Our legacy is your legacy
It's a privilege to promote play, and it's a serious responsibility, especially when legacies are at stake. Operating a multigenerational family business has far broader implications than just balancing budgets and watching the bottom line. For the people who purchase our playgrounds, that space is their legacy and ours. Their reputation matters—to them and to us.

Playworld Systems was founded on family values and experiences handed down through generations. We don't take shortcuts in environmental stewardship, design details, material choices or in meeting customers' unique needs. That's the Playworld Systems Difference. While other companies claim leadership, we prove ours through the choices we make—every day, every decade and every generation.
(From playworldsystems.com)
Safety training for people of all ages and abilities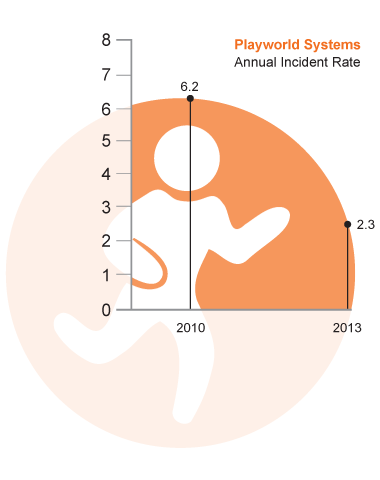 Playworld Systems' SafeStart effort was initiated in 2010 when the annual incident rate was 6.2. They needed an effective safety program to help reduce their incident rate. SafeStart was chosen because it focused on the human factor to improve safety at work as well as at home.
SafeStart adheres to a safety philosophy complimentary to Playworld Systems' approach to play. Playworld advocates the belief that "there are no age limits on health and fitness" and that everyone, "regardless of age or ability," should have the opportunity to play. SafeStart advocates health and wellbeing as an inclusive experience where everyone is entitled to the opportunity to improve their safety.
Playworld Systems is proud to state that they reduced their annual incident rate from 6.2 to 2.3.
A resourceful solution on-the-job and at home
As a multi-generational, family-owned and operated business, Playworld Systems approaches every decision as a family would: with honesty, integrity and the best interest of those they care about first and foremost. SafeStart was an appealing choice because the process didn't end when employees left the facility. The training delivers valuable insights that help address common states of mind and unintentional errors, which benefits employees while on the job and at home. The process also includes a wealth of resources applicable to families, with programs focused on everything from toddler to teen safety.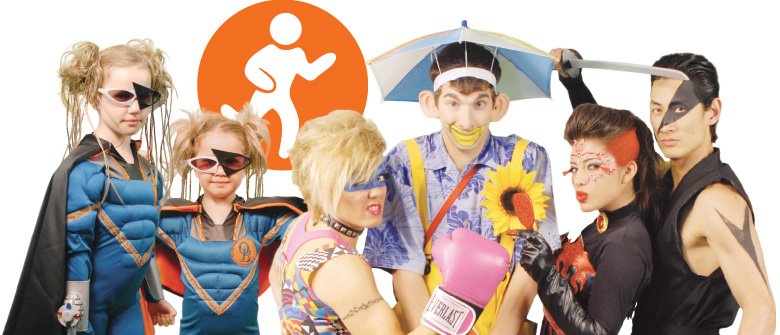 Playworld Systems chose to promote SafeStart in a manner uniquely suited to their needs. Numerous posters were placed throughout Playworld Systems' headquarters that highlighted characters from the SafeStart video Boo Boo Bandits.
Sustainable and flexible implementation
As a family business manufacturing and servicing playground equipment for children of all ages and abilities, Playworld Systems chose to promote SafeStart in a manner uniquely suited to their needs. Numerous posters were placed throughout Playworld Systems' headquarters that highlighted characters from the SafeStart video Boo Boo Bandits. The posters generated buzz and word-of-mouth for the new SafeStart program and many employees were excited to learn more.
The training module format was appreciated because it wasn't a major time commitment on behalf of employees. Playworld Systems also liked the monthly implementation because it kept the momentum going strong.
An instructor from SafeStart was on site monthly to conduct training sessions. The schedule was chosen to provide time between sessions for employees to review materials and prepare questions prior to the next stage of training. Approximately 40–50 people were trained in each class. Additional sessions were scheduled to ensure absentees reaped the benefits from each module.
Playworld Systems plans to continue monthly meetings going forward.
Mutual commitment to awareness and improvement
Playworld Systems implemented SafeStart companywide; it wasn't limited to manufacturing plant employees. This decision was intended to demonstrate commitment to the safety, health and wellbeing of all employees, regardless of their dayto- day tasks and job descriptions. Management is committed to making safety everyone's top priority.
In the past, companies often chose to target specific areas or personnel perceived to be at greater risk in relation to safety. Now, progressive companies are recognizing that a proactive and inclusive approach to safety requires collaboration between employees and management to keep everyone safe.
Playworld Systems have internalized and are practicing the new safety concepts daily: they have been overheard using SafeStart concepts and phrases such as, "My eyes were not on task" or "I became complacent." Even new employees are using the SafeStart terminology.
"The SafeStart program has helped us tremendously. Employees are very aware of what is a safe versus a non-safe environment. They now understand what it means to have their mind on task and are paying attention to near-miss situations. Everyone is being more proactive to prevent incidents."

Return on Investment: Safety, Quality and Productivity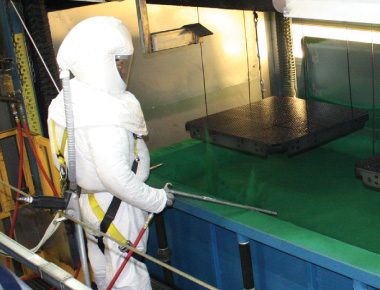 When asked to assess the ongoing successes of their various investments in safety, Playworld Systems provided a succinct response: "We are very proud of the decline in our number of incidents. This improvement has positively impacted employee morale and productivity."
Overall quality has improved over the past several years, with multiple programs, including SafeStart, in place that have contributed to this outcome. The goal of this effort was to ensure employees were as safe as possible. Safe, uninjured employees mean that quality control is consistent. There is less of a need to retrain employees or hire temporary staff to replace injured employees. On average incident rates decreased and workers compensation claims decreased as well.
Since launching SafeStart, thirty new employees have been hired. It's now a requirement that all Playworld Systems employees participate in the multiple-module safety training program. Several employees have become certified SafeStart trainers and will continue to conduct refresher seminars, as well as train new employees.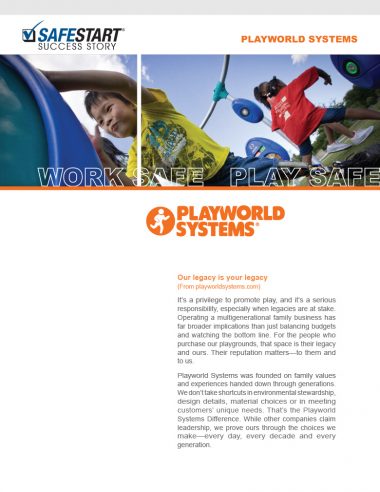 Get the PDF
You can view or download a PDF of this case study using the button below.