Since its release in February, the new SafeStart Communication Kit is receiving rave reviews from our clients—from generic comments like, "Wow, these posters look great!" and "This is exactly what we needed!" to more specific comments about how the materials and resources in the kit are really saving our clients time and money.
John Williams, Jr. from Cleveland Coca-Cola Bottling Co., Inc. reported to us, "The communication kit is perfect. The banners and posters give a lot of visibility to the process. Great job on putting this together. Also, the communication letters are a very big help. We don't have to re-create the wheel, just change some minor verbiage and send out the letters."
We were aware that our clients were spending a fair bit of their time creating their own signage and internal promotions and communications, so we wanted to create a robust resource for them that would save them from having to create some of the most-used elements themselves.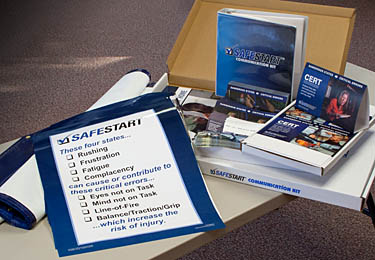 The Communication Kit contains poster, inserts, tent signs, as well as a binder and resource disc with templates for all types of communications. It will help new sites launch SafeStart and all clients promote and sustain SafeStart post-implementation.
Contact your account manager to discuss pricing and quantities required for your site.