Cargill is an international producer and marketer of food, agricultural, financial and industrial products and services. Founded in 1865, the privately held company employs 131,000 people in 66 countries. Cargill Prairie Malt Limited, located in Biggar, Saskatchewan, is a producer and supplier of high quality Canadian Malt for domestic and international beer brewing customers.
Cargill Malt selected SafeStart to help address their corporate mandate for a zero injury culture. The human factor was recognized as a root cause of injury and Cargill wanted to minimize its impact.
SafeStart was implemented in conjunction with the observation and feedback process SafeTrack. After initial training, emphasis was placed on continuous observation; a methodology particularly suited to the work environment at Cargill Malt.
The results exceeded expectations by removing barriers to safety, fostering positive, non-punitive communication, increasing participation and surpassing Cargill's corporate safety performance goals.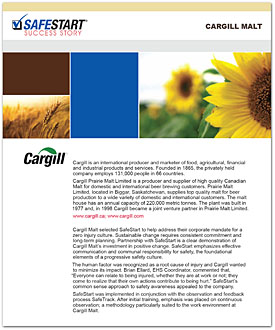 Read the Cargill case study for full details or contact our Cargill account manager in our head office for further insight into SafeStart in the food and beverage industry.