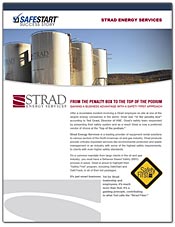 It's common in the oil and gas industry for clients to require that vendors have a behavior-based safety process in place.
That's why Strad Energy, a leading provider of energy services and solutions to the North American oil and gas industry, includes SafeStart and SafeTrack in all of their bid packages.
But the main reason Strad Energy uses SafeStart and SafeTrack is to help the company significantly reduce worker injuries. Two of Strad's most common risk areas—eye and hand injuries—were identified and nearly eliminated in just two years.
SafeTrack has been especially effective in Strad's manufacturing operations, helping reduce the total recordable injury frequency by an impressive 87%.
Download the full case study to discover how Strad parlayed its sterling safety improvements into a business advantage in acquiring and retaining clients—and why it's much more than just "business" for them. The company even sent one employee over 500 km to attend training!
We applaud Strad for its exemplary safety efforts and strategic use of SafeStart and SafeTrack.
As this and other case studies demonstrate, SafeStart can bring improvements to companies in any industry. Contact us to learn more.