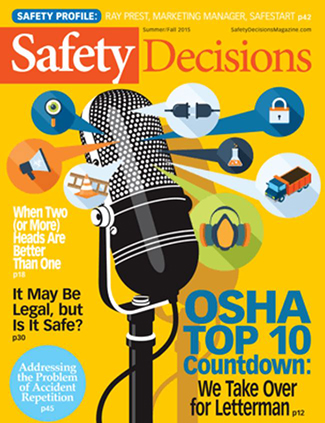 Safety Decisions Magazine has a new featured columnist—SafeStart's own Marketing Manager Ray Prest. His first article for this column is Complacency Deserves a Place on OSHA's Top 10 and it can be found in the Summer/Fall 2015 issue.
In his article, Ray makes a case that complacency is one of the most common causes of injuries year after year and should be added to OSHA's top 10 serious violations list. Fortunately, human factors training can teach people how to combat complacency by keeping risk top of mind and maintaining focus.
"At its core, complacency is simply an inaccurate perception of risk," Ray says. "The more you do something and nothing adverse happens, the more you feel you can continue doing it without consequence."
Follow the link above to read the entire article and be sure to keep an eye out for Ray's upcoming articles in Safety Decisions.