The American Society of Safety Engineers Safety 2014 conference has arrived and we couldn't be more excited to talk safety in Orlando in just a few short days.
SafeStart staff will be at booth #1035 and we're looking forward to discussing with you the SafeStart concepts that will drop your injury rates lower than they've ever been before.
Come chat with us and get some free stuff—we're giving out USB drives, playing cards, luggage tags and even a MacBook for sharing your SafeStart story (but more on that later).
We also have a number of outstanding speakers covering some very important safety topics at this year's ASSE National Conference.
Speakers
Larry Wilson will start off on Monday, June 9 from 10:30-11:45 a.m. with a talk titled New Perspectives on Accident/Incident Investigation, sponsored by UL Workplace Health & Safety.
Larry will discuss traditional incident investigations, which typically focus only on hazardous energy and don't consider human error. Learn how including human factors in incident investigations will not only improve the effectiveness of investigations but will also make your workplace safer as a result.
Then, Gary Higbee will present Beyond Compliance: Addressing the Human Factor on Tuesday, June 10 from 4:30-5:30 p.m.
In his talk Gary asks the question "Will compliance alone solve your injury problems?" There are some injuries that protective equipment or detailed rules simply can't prevent. Many safety experts believe human error may be responsible for over 90% of all injuries, and Gary will explain how to account for human errors in your safety management system.
Finally, Tim Page-Bottorff will close things out with his side-splitting talk Humor In Safety: From "Blah Blah Blah" to "Ha Ha Ha" on Wednesday, June 11 from 1:45-2:45 p.m., sponsored by the Military Branch of the International Practice Specialty.
Safety is a serious topic—but that doesn't mean your safety presentations have to be boring. Tim's entertaining session will teach you how to engage your employees with personal anecdotes, humorous video clips, storytelling and more.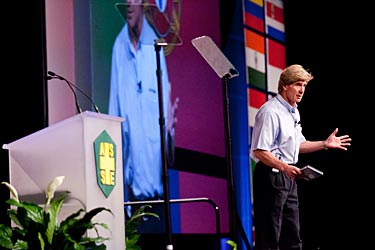 Sponsored session
As part of our annual Centennial sponsorship, we're delighted to have SafeStart author Larry Wilson introduce safety expert Dr. Sidney Dekker at one of the conference's two general sessions.
Dr. Dekker will explain how your responses to incidents and accidents may be seen as unjust, and how this gets in the way of your own safety investigations and holds your back from making lasting improvements to safety.
Share your story
We also want to hear about you! Everyone has a SafeStart story, even pro athletes like Chad Moeller—one of those times when you put yourself at risk because you were rushing, frustrated, tired or complacent.
You may have been hurt as a result, or maybe you narrowly avoided being injured. But whatever your story is, we want to hear about it—and maybe give you a MacBook just for sharing it with us.
The best SafeStart story that we hear during the ASSE Safety 2014 conference will win a MacBook. We'll be giving away plenty of other prizes as well, so stop by booth #1035 and tell us your story!
(If you're not at the conference or can't make it to our booth then share your SafeStart story with us on Twitter or Facebook.)
We look forward to seeing and talking with as many of you as possible at the ASSE National Conference, and hope you can make it out to hear our presenters at Safety 2014!