Recently, Ken Tutin, Vice President of Business Support for the Americas Division of Crown Cork & Seal USA, Inc. spoke with SafeStart employees about how his company has turned its safety record around. A lot of what he covered is aspirational, and he acknowledged that there's still work to be done, but he shared what their equation for safety leadership success is going to look like.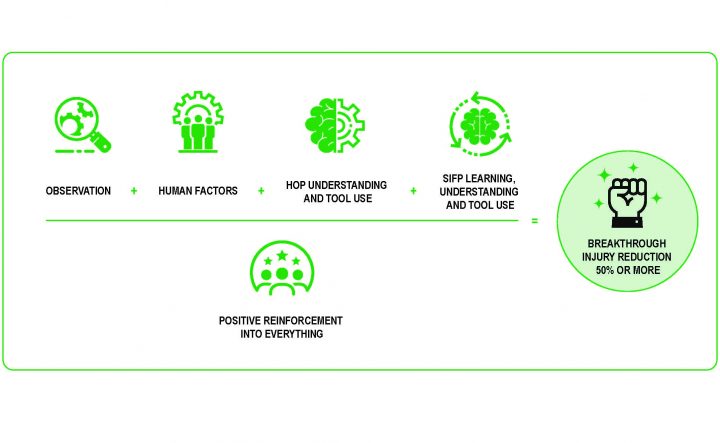 "We're not talking about an either-or or a single silver bullet strategy here, we're talking about using all of the above and integrating these things into the proper proportions out there in our day to day, in the operational space in our plants," Ken said when he introduced the equation.
This equation will definitely be a game-changer—the best safety plans are ones that use multiple methods to complement regulatory safety measures. Take a look at this breakdown of why this equation will lead to success.
Observation
Many companies rank safety as their top priority but often fail to include key players in their plans to achieve safety. Safety observations not only help employees identify unsafe acts on the jobsite but are also a great learning tool to inspire employees to take ownership of the wellbeing of their peers in addition to themselves. Incorporating an observation and feedback process into the workplace inevitably changes how workers think and act both on and off the jobsite.
+ Human factors
Human factors training will help employees at all levels recognize how their state of mind can affect their performance both on and off the job. The great thing about human factors training is that it isn't industry or job-specific. Few workers recognize how important their personal attention to risk is and how that can change through the course of the day because of their state of mind and other human factors. By focusing on the surrounding risks, the fatigue, frustration and other human factors they may be experiencing at that given moment can be mitigated, making everyone safer as a result.
+ Human and organizational performance (HOP)
HOP is more than just a focus on human factors—it looks at how you can build a system that can stand up to human performance. As Ken said, "We have learned that it's difficult to detect flaws in our system if all we see are flaws in our humans."
Ken specifically identified several crucial HOP concepts and principles:
Humans are fallible.
Error-likely situations are predictable.
Organizations and people "drift."
Individual behaviors are influenced by culture and leadership.
Events can be avoided by learning.
People achieve high levels of performance based on encouragement and positive reinforcement.
Ken reviewed these HOP concepts and principles and pointed out that you need a system-viewed approach to correct and sustain organizations going forward—which means leaving blame out of the game.
+ Serious injury and fatality potential (SIFp)
A common flaw when it comes to serious injuries and fatalities is that people often become so transfixed on treating the prevalent minor incidents or injuries that they become distracted from incidents that have the potential to become major. In the same light, incidents that have SIF potential require a different strategy for prevention—treating all incidents the same is a major downfall in determining SIFp. There are tools that can help determine whether an incident has SIF potential so gaining an understanding of SIFp learning materials and tools can help control the hazards.
÷ Positive Reinforcement
"The equation is not complete though because none of that works unless we can figure out how to get positive reinforcement into everything that we do," Ken said. "We have to have this formula divided by positive reinforcement is what's going to move us forward—so that's the equation for success that we've developed."
If you want people to continue on a strong path to positive safety performance, you have to recognize when they are doing things right. "You can't walk past people doing the right thing," Ken noted. It has been proven that when you only respond negatively to people—whether it's playing the blame game or pointing out their mistakes—you're only going to get negative results. Get in the habit of complimenting someone's work and telling them they did a good job, no matter how cheesy it makes you feel.
The overall goal of this equation is to reduce injuries by 50% or more in an 18–24 month period. Having all of these processes in place helps predict when the next event will occur. By getting employees to take responsibility for their own safety (and the safety of others), increasing personal attention to risk, building systems and identifying SIF potential, all while maintaining positive reinforcement, a 50% or greater reduction in injuries is attainable.
If you'd like to watch the Lunch and Learn session that Ken delivered to SafeStart staff, you can check it out here: https://safestart.com/videos/ken-tutin