An 81% reduction in accidents
Leatherman Tool Group, Inc. hired Bill High as safety manager to establish its first safety department. High's top priority as safety manager was to build a strong OSHA compliance program. But after extensive employee training and efforts to increase awareness of Leatherman's safety program, High felt that employees did not understand their individual responsibilities as they relate to the company's overall safety record. More importantly, Leatherman's employees were still getting hurt.
Training Need
Five years later, Leatherman began experiencing a 44% increase in accidents per month. High knew that something had to be done. To reverse the trend and effectively reduce accident rates at Leatherman, High realized he had to "increase safety awareness individually." Accidents could no longer be "someone else's responsibility." However, as a one-man department, High had neither the human resources nor the time to effectively deliver this message directly to each employee on the production
High was already familiar with Behavior-Based Safety (BBS) training. He liked the program's concepts, however, he didn't like the idea that BBS takes six months to implement. After investigating a variety of safety training products on the market, High found a program that could motivate employees to take responsibility for their own safety and begin working immediately. He chose SafeStart, an advanced safety awareness program. With SafeStart, High believed he could achieve greater employee buyin than with the more time-consuming BBS programs.
Implementation
Three months later, High taught the first SafeStart class at Leatherman. He started with the punchpress department because of its elevated accident rate. High continued the phased rollout, one department at a time. Each department divided the training program into six, one-hour sessions, meeting once per week. No class was larger than 12 employees. With this approach, High knew he could encourage employee participation, increasing SafeStart's effectiveness.
High dedicated the last ten minutes of each class to group discussion of the principles covered in that day's videotape lesson. Starting with the third training session, students were asked to bring examples of SafeStart principles they had observed since the previous class, including examples outside of the work environment.
When the rollout was completed two years later, all eight major departments and 259 employees at Leatherman were SafeStart savvy.
To keep the SafeStart concepts fresh, High distributed laminated SafeStart posters to all Leatherman departments. In addition, High provided production supervisors with SafeStart pens to hand out to remind employees of the SafeStart concepts. And to maintain employee motivation, each employee who graduated from the SafeStart program was awarded a T-shirt with the SafeStart and Leatherman Tool Group logos, reinforcing the message that "safety pays" at Leatherman.
"SafeStart played a significant role in reducing injuries," said High.
Leatherman went from 78 accidents in year one to 15 accidents in year three (Figure 1).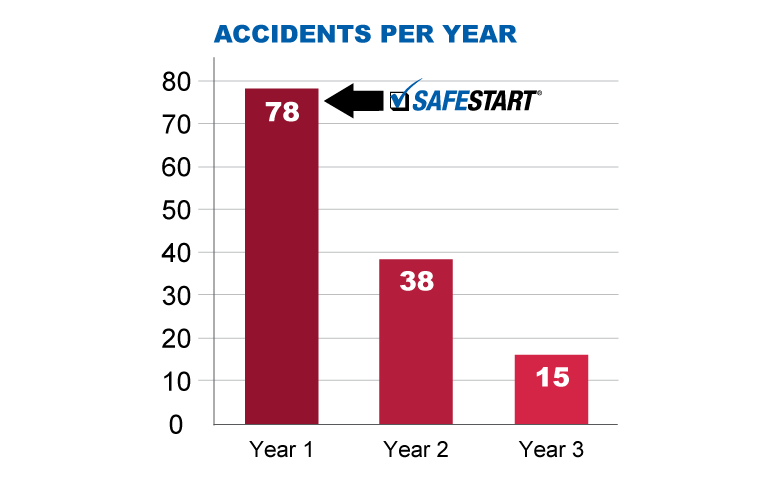 Each year, on the anniversary of completing the SafeStart training, each department gets to order new T-shirts and wear them on a specified day of the week of its choosing. This is yet further evidence of Leatherman's long-term commitment to safety.
In fact, SafeStart was especially influential to one employee who had a record of being accidentprone. An average of three injuries per year to be exact. In his third SafeStart training session High said the employee exclaimed, "Now I understand why I get hurt."
Overall, Leatherman employees like the easyto- understand concepts that SafeStart teaches. In fact, many employees are using the training at home and while driving, too. And High realizes the importance of this at-home and on-the-road aspect. As High put it, "Lost workdays are not just the result of accidents on-the-job. They can occur from accidents off-the-job as well."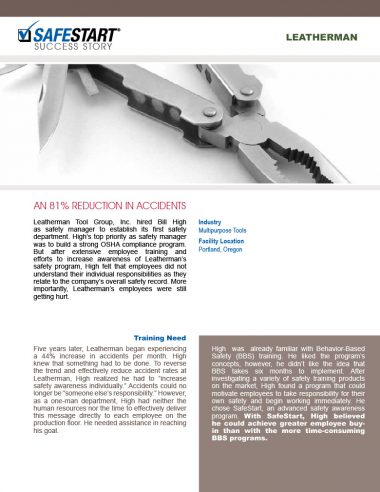 Get the PDF
You can view or download a PDF of this case study using the button below.