Background
The Foley site (400 employees) of Goodrich Aerostructures, a leading worldwide supplier of aerospace components, systems and services, enjoys below average accident rates for its industry. Through a structured, plant-wide training program that focuses on areas such as fundamental practices, accident investigations, video reenactments of accident scenes, management reviews of processes, and safety "toolbox" meetings, the Foley site reduced accident rates by 54% within a twelve month period (84% reduction in lost workday case rate during same period). However, Mike Campbell, Safety Project Leader for Goodrich Aerostructures' Foley plant, understands that there is always room for making improvements in even the best safety programs.
Training Need
During this twelve month cycle, the Foley plant had already experienced ten OSHA recordables. Campbell and the management team recognized that without a revitalized emphasis on safety, the Foley plant was in danger of missing its year-end goals for accident reduction. To renew enthusiasm for safety and prevent the program from regressing, Campbell felt that his plant needed a behavior-based approach to safety training. But Campbell needed a program that would complement his plant's current OSHA training, not replace it. Campbell was looking to do the following:
Create a proactive safety culture
Implement a "non-confrontational" safety program
Adopt a cost-efficient safety program that is easy to understand
Develop a common language among the workforce
Minimize lecture-based training format ("train at your pace")
Realize results quickly
Influence off-the-job as well as on-the-job safety
Train employees using a flexible schedule
Of the many behavior-based training programs available, Campbell believed that only SafeStart fit these criteria.
Campbell already experienced success implementing SafeStart to 250 employees in his previous job. He understood the importance of building a diversified team of trainers who represent a variety of backgrounds (Human Resources, Environmental Health & Safety, etc.) and who can relate their personal experiences to employees. In his experience, this team-oriented method of training would ensure SafeStart's success.
Implementation
A training team was assembled at the Foley plant in preparation for a SafeStart training launch to employees. After conducting "train-the-trainer" sessions, the Foley plant rolled out SafeStart to its employees – holding classes every three weeks. Each 1½ hour session included a variety of company representatives, from maintenance technicians to Goodrich Aerostructures contractors.
Campbell chose the pilot program method (phased rollout) versus rolling out SafeStart to all ten Goodrich Aerostructures sites because he wanted to minimize costs and prove the training worked. The pilot program targeted employees working in maintenance, repair and operations.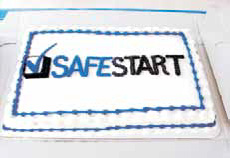 Goodrich Aerostructures believes in rewarding its employees for being safe. One way is by holding a company-wide SafeStart cake party.
Results
Since implementing SafeStart at the Foley plant, Goodrich Aerostructures experienced only three OSHA recordables, a 70% reduction. This dramatic turnaround enabled the Foley plant to exceed its goal for reducing OSHA recordables. In Campbell's eyes, this is "icing on the cake. SafeStart injected energy into our safety program and helped us avoid a culture of complacency."
Campbell will be the first to say that SafeStart is not the total safety training solution, but an integral part. "A company needs to have a strong commitment to fundamental safety practices before implementing a safety awareness training program like SafeStart," says Campbell. "The end of the SafeStart program is merely the beginning of the process."
To keep the SafeStart program alive, the management team has held numerous safety parties including a SafeStart cake party where employees received recognition for their commitment to the training program. In addition, signs were erected at all entry points to the Foley plant reminding employees of the SafeStart concepts.
With the success of the initial rollout of SafeStart, implementations at additional Goodrich Aerostructures facilities are now underway.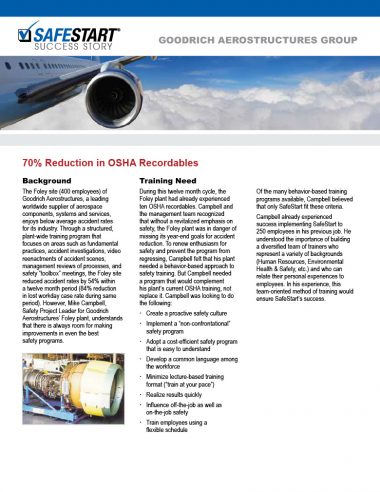 Get the PDF
You can view or download a PDF of this case study using the button below.