Vision Statement
We are and will remain the best producer and supplier of conventional munitions to the fighting ground, sea and air forces. Our commitment to quality will make our customers demand our services above all others. We are committed to continuous measurable process improvement throughout the organization.
Mission Statement
To receive, store, ship, produce, renovate and demilitarize conventional ammunition, missiles and related components to meet contingency requirements in support of the warfighter.

Calculating the Human Factor
Crane Army Ammunition Activity (CAAA) noted that over 80% of their incidents were related to human error and they were looking for programs that might reduce the number of incidents. Their goal is to eliminate all incidents; they do not consider any incident as acceptable. The Command Safety team (Commander, Directors, Medical, Safety, and Union) meets monthly to cover all safety issues and review incidents as well as incident trends.
Crane evaluated a number of Behavior Based Safety programs in addition to SafeStart. After careful consideration, SafeStart was chosen because the patterns of States to Errors targeted by the program directly related to the kinds of human error that Crane was experiencing with their incident trends. SafeStart was also appealing because of its simplicity, cost-effectiveness, and the positive safety message the program communicated to the workforce.
Management agreement to implement SafeStart was but one example of an ongoing commitment to safety; Crane has implemented several other initiatives that have also been strongly supported by management. This consistent dedication to a culture of safety has produced many positive results, not the least of which is Crane's recognition as a VPP Star Site.
Continuous Measurable Improvement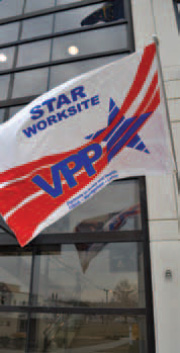 Crane achieved VPP Star status in July, 2010. They also recently achieved over 4.3 million hours without a lost workday injury. Crane now has employee safety councils and much more employee participation in the overall safety program. The employees have been very supportive of the SafeStart process from initial implementation to the present. Employees look forward to the refresher training on an annual basis. There has been a positive impact on morale and overall safety attitude that has resulted in decreasing incident rates of all types. Although less easily quantified, the positive impact also extends to such concerns as quality control, as acknowledged by Chief Safety Officer, Walt Shearin, who commented that a "Decreased number of incidents directly impacts Productivity and Quality."
Once management was convinced that the training would be cost-effective and add value to existing safety programs, the first major challenge was to identify a training plan. Crane chose the train-the-trainer option for certifying instructors to expedite the training process. Two options were considered: a single training team, or several personnel from each directorate, certified to be instructors. The number of people to be trained made it more difficult to have a single team dedicated to training so trainer certification was completed for each directorate.
Implementation of SafeStart was a part of our journey to achieving VPP Star site recognition; we have seen a culture change within the organization,
– Walt Shearin
Communicating Positive Change
With over 700 personnel to be trained through 5 units of SafeStart, and with government mandated training accounting for the majority of allocated training time, scheduling SafeStart was also a significant challenge. Crane trained between 10 and 20 people per class, while attempting to maintain the recommended two week period between the different units.
Approximately one year after full implementation of the SafeStart program, Crane conducted a review. Incidents were analyzed and personnel were interviewed to assess their thoughts about SafeStart before and after each incident. Crane also interviewed random personnel. Happily, the findings revealed that many personnel applied SafeStart principles on a daily basis and Crane's decreased incident rates reflect that philosophy. SafeStart terminology continues to be used when incident investigations are conducted and employees routinely rely upon the same language.
Cultivating Sustainable Results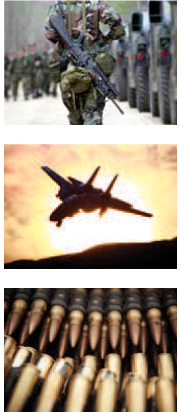 With a view to sustainability, Crane continues to allocate resources for training new employees, as well as annual refresher training during their safety stand down day; one or two articles in their weekly safety topics are also about SafeStart. Emphasis has more recently been placed on the SafeStart Home elements to share the program with loved ones and to reinforce employee core training. SafeStart consultant presentations at the safety stand downs for the last two years have been used to promote SafeStart Home. In the interest of continuous improvement, recently developed SafeStart Extended Application Units are also being considered to support future training.
As with many organizations, new employee training at Crane often represents a significant logistical concern in comparison with the facility-wide implementation of a new safety initiative. SafeStart concepts are introduced during orientation training; however, full training is often postponed until there are a sufficient number of new hires for classes. Allocation of resources for training is much easier to determine when dealing with the entire workforce, even when the volume of personnel to be trained offers its own unique obstacles. In the interest of maintaining their positive results and improving upon them, Crane continues to encourage its employees to make full use of available training and recognizes that the training of new employees requires consistent and sustained dedication.
Calculating the Result
The results of Crane's ongoing dedication to safety have been decidedly positive, with an injury reduction of 40 to 50 percent over approximately a five year time frame. More specifically, the Total Case Incident Rate (TCIR) has been reduced by 40–50% and Crane's Days Away, Restrictions, and Transfers (DART) have been reduced by 80–90% over the same time period.
CY05 TCIR was 7.74 and CY10 TCIR was 3.52
CY05 DART was 5.76 and CY10 DART was 0.81

Crane Army Ammunition Activity earns VPP Star Status
Excerpt from the July 13, 2010 article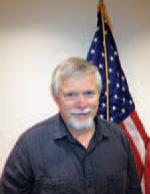 "Since then CAAA has passed a safety milestone of more than 2 million hours worked without a lost workday incident, dating back to June 11, 2009. Both this milestone and the Star Status reflect the success of CAAA's behavior-based approach to safety through empowering their employees and having the local AFGE Union's full support and backing.
culture of safety is driven from the top down and relies on all employees to make it happen. The major way that VPP is affected by the employees is through its employee safety councils. The employee safety councils get ideas from employees, find ways to fix safety issues, assist the Safety Office, investigate safety mishaps, and are the key drivers in helping CAAA achieve and maintain its VPP Star Status. It also utilizes the SafeStart program to ensure employees are well trained and constantly thinking safety first."
To preview the full article, please visit the link below.
http://www.army.mil/article/42191/crane-army-ammunition-activity-earns-vpp-star-status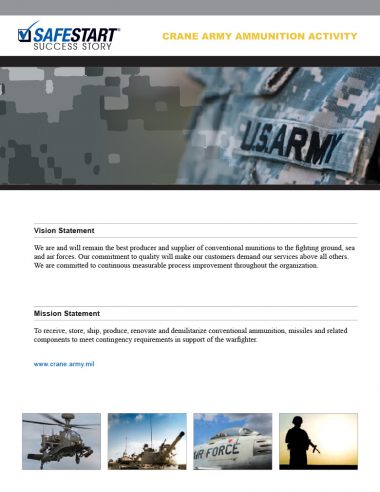 Get the PDF
You can view or download a PDF of this case study using the button below.